Tour through
our premises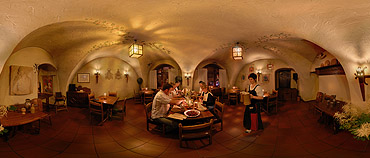 The different places offer room for 140 guests and in the Monastic beer garden outside there is place for 50 people.
Homemade
specialities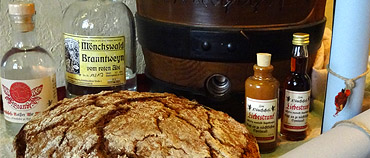 Delicious homemade bread with lard, unique local beer, spirits and liqueurs, some are only available at this place and nowhere else.
Time travelling with
Monk Eusebius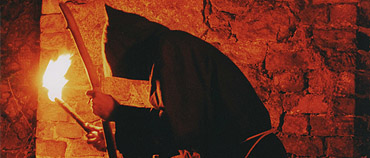 Highly original and extraordinary guided sightseeing tour through the Middle Ages in the 1,000-year-old town Bautzen.
Enter and welcome to the place!
In 1995 on October 1st this historical restaurant opened its doors with the slogan "Eat with your finger". Here you can - but you do not have to - forget table manners and eat as you want.
The different premises offer room for 140 guests and in the monastic beergarden you can feel the atmosphere of the monks` yard. The monastic kitchen, the councillors` room, the seclusion and the study are ideal places to enjoy the medieval cuisine-made according to traditional recipes - in historical surrounding while having a family party, or being together with friends or business partners. Obviously, you eat homemade bread as well as vegetables from ecological farming, based not far from the monks` yard-everything without the "new and modern devilish rubbish".
Even the smallest detail represents the medieval originality: our service staff - "the maid and man servants"- are dressed in historical clothes, especially for this restaurant manufactured pottery is used to serve the meals, and all menucards are written in a historical style. Of course we have got a childrens` menu for our smaller guests and an English one is available for travellers who come from far away.
And now a very important tip for all who are interested in our place:
Anybody who appears here in a medieval costume and shows a bit of fine behaviour of that time - like a farmer, a merchant, a monk or a knight - can be sure that the landlord is going to grant you a price reduction of 1 out of 10.
Historical entertainment and musicans
Many guests, who have been here before, already know about this highlight which takes place every two weeks with historical musicians and travelling entertainers, singers, magicians and fire-eaters, who are also well-known beyond the boundaries of this region. You must see and listen to them and you will be fascinated. As you see, we have done everything to offer a wide range of most delicious meals in a historical atmosphere but also to enjoy the fun of medieval entertainment.
Current Spectaculi

No news available yet.